The new potential of the network! Nadod Announces New Products of Enterprise Network and Data Center Switch Series
---
---
In the era of digital economy, the volume of data has shown explosive growth. As a key capability to connect the past and future of digital technology, network is an indispensable part of digital infrastructure.
On December 8, in order to meet the needs of modern enterprise networks and data centers for network acceleration and efficiency, Nadod launched a total of 12 new products, including S series enterprise network switches and N series data center switches, covering 1G to 100G Ethernet standards, providing high-performance, feature-rich, cost-effective and flexible network support, helping customers accelerate digital transformation and meet the needs of new green data centers.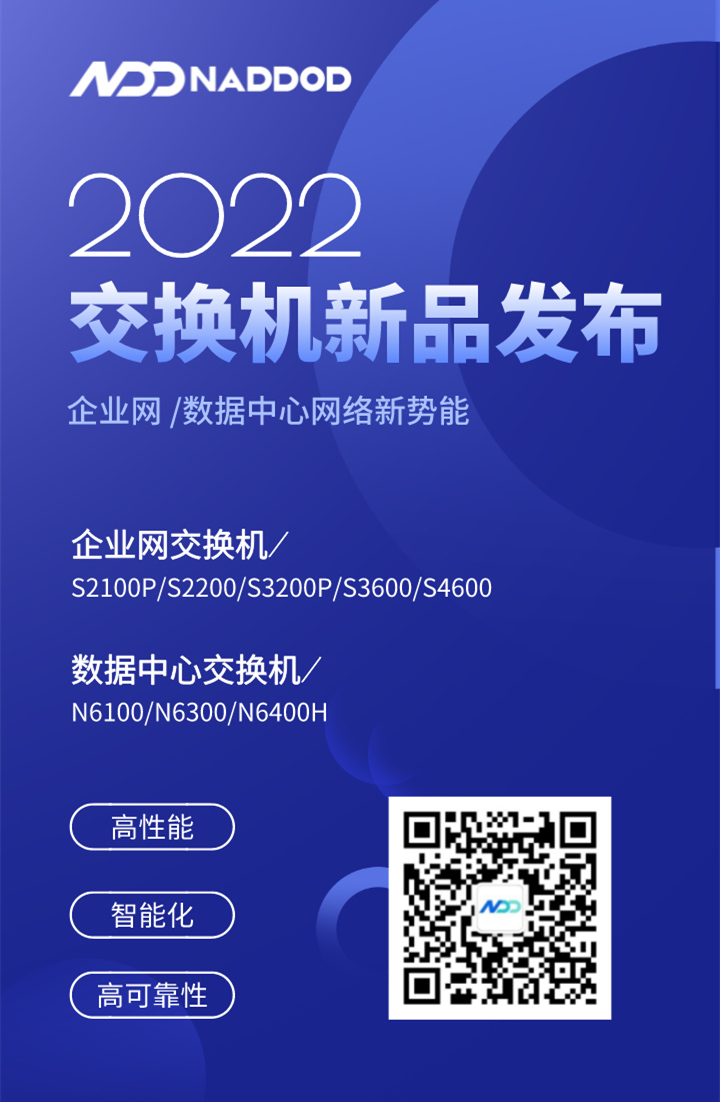 IT system is an important means for enterprises to improve production and communication efficiency and deepen global development strategy. From traditional mail, unified communications and other business applications to the wide application of new businesses such as high-definition video conferencing and cloud computing, enterprise IT systems are constantly changing.
With the rapid development of enterprise IT applications, Nadal has released eight enterprise network switch products, including S2100P/S2200/S3200P/S3600/S4600, to meet the needs of customers in the enterprise network market. It adopts advanced switching network technology, integrates the latest reliable, safe, green and environmental protection technology, provides powerful processing capacity and convenient installation and maintenance means, supports 1G, 10G, 25G, 40G and 100G ports, and provides enhanced functions such as POE+, MLAG, VxLAN, OSPF BGP, and supports the flexible networking of classic layer 3, layer 2 and LEAF-SPINE. It has the performance advantages of permanent POE power supply, plug and play, high bandwidth, high reliability, low latency and high cost performance. It can be widely used in enterprise parks, operators, universities, governments and other application scenarios to help customers quickly build a new business-centric park network and significantly improve the online efficiency of enterprise business.
The intelligent world of the Internet of Things is accelerating. The data center is becoming the core of new infrastructure such as 5G and AI. Large enterprises, Internet companies, cloud service providers and others have increasingly high requirements for high-speed, high-bandwidth and low-latency data center networks.
Nadod has deep technical accumulation and technical service experience in the field of data center, and has a deep understanding of the needs of data center and cloud computing customers. In the face of the triple challenges of data center performance improvement, application scenario change, and green low-carbon demand, Nadal has launched four data center switch products, N6100/N6300/N6400H, which are positioned in data center, cloud computing and other network application scenarios, further improving Nadal's comprehensive ability in the overall solution of data center.
NADDOD N6100/N6300/N6400H series data center switches provide 10G, 25G, 40G, 100G service ports, support MLAG, VXLAN, EVPN, ECN, PFC, BGP, NAT and other functions, build RDMA lossless Ethernet, and are located in the LEAF and SPINE layers of traditional cloud center and SDN cloud center scenarios, applicable to AI, distributed storage, high-performance computing, and open and programmable resource scheduling capabilities to meet the requirements of intelligent computing centers The requirements of supercomputing centers and cloud data centers for new green data centers with high bandwidth, high reliability, low latency and intelligent visualization.
---